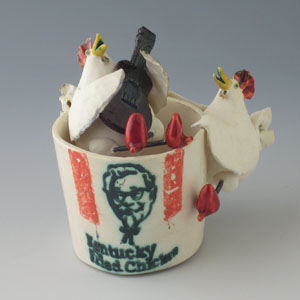 Whimsical…oddly out of the ordinary.
I could say that my whole life is whimsical in some form or another.

I am a ceramic artist from beautiful Creston, BC where I live and make art in the middle of a cherry orchard. It truly doesn't get much better than that! My pottery career began by accident while studying painting in the Visual Arts Program at Red Deer College, almost 10 years ago. Once I got my hands into the clay there was no turning back and the possibilities of things to create are endless.

I have always been attracted to whimsical, colourful things full of patterns and textures. I like things that evoke the feeling that there is a story it is trying to tell, whether real or imagined.

The ceramic pieces I make are inspired by events or things that I see and hear around me everyday that make me smile and laugh. Whether it is my ceramic sculptures or functional work, they become captivating delights for the hand and eye.