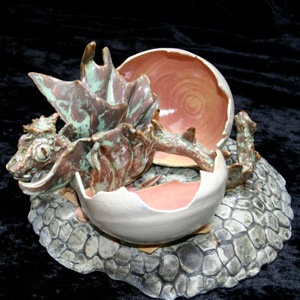 While studying science at Queen's University in Kingston in the 1970's I took a pottery course for some fun. I loved it immediately, and continued to work at it when time allowed, but it wasn't until the kids were grown that I was able to spend serious time in a pottery studio, learning about clay and glazes, and eventually opening my own pottery studio.

I fire in oxidation to cone 6, and the glazes on my pots often reflect the palette of colours found in the trees, sea and the skies of Metchosin, on the west coast of Vancouver Island, although there are occasionally some striking divergences. My pottery ranges from functional to sculptural and may include hand built, slab and/or extruded components.
It is not uncommon to find the occasional just for fun piece among the more traditional work.