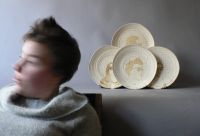 email:Bridget Fairbank

B Practical Pottery
510 Wasson St.
Nelson, BC,
V1L 3G7 Canada

(250) 780-1286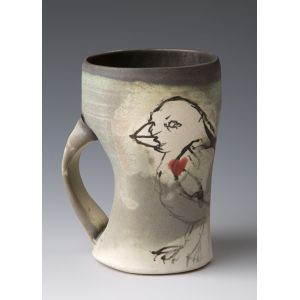 I find comfort in the mundane but can't help wanting to shatter the monotony of the everyday. Being a potter is my way of revolt, my way of spreading a philosophy that the everyday is exceptional and that we must pay attention to what we use. A quiet revolution is cooking in my kiln and in my kitchen. By surrounding ourselves with art that we use daily, our interactions promote additional dialogue and depth in our days. Making pottery is a way of thinking. A way of working it out, whatever 'it' may be.

Through making (and regarding and using) I contemplate the fast paced lives we live and time itself, deliberate on cultural complexities, our way of sharing, learning, destroying. I ruminate on respect and impermanence. I think of home, nature and globalization through clay and the hand crafted vessel. Ceramics does not give me peace of mind, it fuels my notions. I can try to use lofty words to contextualize my practice but, words can do nothing for something that only ceramics itself can justify.

I'm equally apt to be found sharing a beautifully cooked meal in good company and conversation as making the plates to eat off of. By making pottery I choose a way of being and slowly vessel by vessel hone my patience and ideologies. Pottery teaches us to take life slow and cherish that which we use and consume.